About Us
China Palace is a Chinese takeaway in Dundee. Why don't you try our Chicken Green Peppers or Chicken & Cashew Nuts?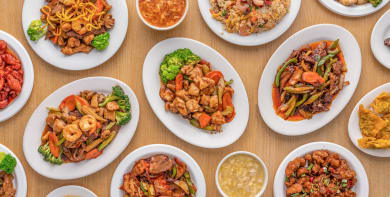 Reviews
103 reviews
GARY
"Brilliant as always"
06/06/2021
charles
"Food was lovely all warm and delivered quickly"
29/05/2021
Gail
"Great food, have never disappointed."
09/05/2021
Owen
"Nice hot food, good portions and prompt delivery"
04/05/2021
Menu
Barbecued Pork Spare Ribs Gravy Sauce
£6.20
Barbecued Pork Spare Ribs Syrup
£6.20
Salt & Chilli Pork Spare Ribs
£6.40
Mini Vegetable Pancake Roll
£3.50
Deep Fried Butterfly Prawn
£4.60
Salt & Chilli Chicken Wings
£4.10
King Prawn & Mushroom Curry
£8.20
Special Curry Singapore Style
£7.80
King Prawn Curry Singapore Style
£8.20
Shrimp Curry Singapore Style
£8.10
Chicken Curry Singapore Style
£7.90
Beef Curry Singapore Style
£7.90
Pork Curry Singapore Style
£7.90
Sweet & Sour King Prawn Cantonese Style
£8.60
Sweet & Sour Chicken Cantonese Style
£8.20
Sweet & Sour Pork Cantonese Style
£8.10
Chicken with Bean Sprouts
£7.50
Chicken with Onion in Oyster Sauce
£7.60
Crispy Chicken Soya Sauce
£8.20
Crispy Chicken Sweet & Sour Sauce
£8.20
Chicken Satay Cantonese Style
£8.40
Chicken with Green Pepper & Black Bean Sauce
£7.90
Chicken Ginger & Spring Onion
£8.20
Chicken Ginger & Pineapple
£8.10
Chicken with Bamboo Shoot & Water Chestnut
£7.50
Special Stir Fried Thin Noodles
£9.00
King Prawn Stir Fried Thin Noodles
£8.60
Chicken Stir Fried Thin Noodles
£8.10
Beef Stir Fried Thin Noodles
£8.10
Pork Stir Fried Thin Noodles
£8.10
Special Green Peppers
With black bean sauce & thin noodles
£9.00
King Prawn Green Peppers
With black bean sauce & thin noodles
£8.90
Chicken Green Peppers
With black bean sauce & thin noodles
£8.30
Beef Green Peppers
With black bean sauce & thin noodles
£8.30
Pork Green Peppers
With black bean sauce & thin noodles
£8.30
Beef with Onion in Oyster Sauce
£7.60
Shredded Crispy Beef Soya Sauce
£8.40
Shredded Crispy Beef Sweet & Sour Sauce
£8.40
Beef with Green Pepper & Black Bean Sauce
£7.90
Beef Ginger & Spring Onion
£8.20
Beef with Bamboo Shoots & Water Chestnut
£7.50
Roast Duck with Pineapple
£8.60
Roast Duck with Green Pepper & Black Bean Sauce
£8.70
Roast Duck Ginger & Spring Onion
£8.70
Roast Duck Ginger & Pineapple
£8.70
King Prawn with Pineapple
£7.90
King Prawn with Mushrooms
£7.90
King Prawn with Sweetcorn
£7.90
King Prawn with Onion in Oyster Sauce
£8.10
King Prawn with Green Pepper & Black Bean Sauce
£8.40
King Prawn Ginger & Spring Onion
£8.70
King Prawn Ginger & Pineapple
£8.70
King Prawn with Bamboo Shoots & Water Chestnut
£7.90
Chicken & Mushroom Omelette
£7.80
Fried King Prawn in Batter
£8.10
Hot & Sub Gum
The favourite chicken, beef & pork in a light crispy batter, then stir fry with more ingredients in hot & sour sauce
£8.60
So Chow King Prawn
Savoury meat flash-fried with pineapple, green pepper, onions & mushroom in sauce
£8.10
Chicken Combination
Chicken, barbecued pork & king prawns
£8.40
Szechuan Bang Bang Chicken
Hot & spicy chicken with mushrooms, green peppers, carrots & onions
£8.40
Mandarin Beef
Sliced beef cooked in garlic sauce on a bed of lettuce
£6.70
Salt & Chilli Chicken
Dry dish
£8.50
Crispy Chicken in Garlic & Chilli Sauce
£8.40
Crispy Beef in Garlic & Chilli Sauce
£8.40
Deep Fried Chicken in Orange Sauce
£8.20
Roast Duck in Orange Sauce
£8.10
Deep Fried Chicken in Plum Sauce
£8.30
Crispy Chicken in Honey Sauce
£8.40
Crispy Beef in Honey Sauce
£8.40
Curry Sauce, Chips & Onion
£4.40
Curry Sauce, Fried Rice & Chips
£4.40
Curry Sauce & Chips Small
£3.40
Curry Sauce & Chips Large
£4.30
Curry Sauce & Fried Rice Small
£3.40
Curry Sauce & Fried Rice Large
£4.30
Curry Sauce & Boiled Rice Small
£3.30
Curry Sauce & Boiled Rice Large
£4.20
Soft Fried Noodles with Bean Sprouts Small
£3.50
Soft Fried Noodles with Bean Sprouts Large
£4.70
Meal A for 2
2 x Chicken noodle soup OR 2 x pancake rolls
Sweet & sour king prawns
Chicken cashew nuts
2 x Fried rice
Pineapple fritters
Prawn crackers
£25.00
Meal B for 2
2 x Chicken & sweetcorn soup
Spare ribs OR 2 x pancake rolls
Lemon chicken
Beef & mushroom
2 x Fried rice
Prawn crackers
£27.00
Meal C for 3
3 x Chicken & mushroom soup OR 3 x pancake rolls
Sweet & sour pork Cantonese style
King prawn & mushroom
Beef & bean sprout
3 x Fried rice
Banana fritters
Prawn crackers
£34.00
Meal D for 3
3 x hot & sour soup OR 12 x mini vegetarian pancake rolls
Crispy chicken in garlic & chilli sauce
Satay beef
King prawn chop suey
3 x fried rice
Banana fritters
Prawn crackers
£32.50
Meal For 4
4 x chicken & sweetcorn soup OR 4 x pancake rolls
Sweet & sour chicken Cantonese style
Mandarin beef
Roast duck in orange sauce
King prawns with ginger & pineapple
Chicken with green peppers & black bean sauce
4 x fried rice
Prawn crackers
£43.50
Contact Us
Find Us
30-32 Dura Street, Dundee, DD46SN
We deliver to
DD1, DD2, DD3, DD4, DD5